Education
Potential for Mobile Processing of Lamb and Goat

by tatiana Stanton (Cornell Small Ruminant Extension Specialist)
(taken and edited from her articles in the Resource Guide for Direct Marketing Livestock and Poultry)


Farmers need ready access to good quality slaughter and processing facilities in order to direct market meat and poultry products from their animals. Many regions of the Northeast do not have sufficient facilities to meet the needs of local farmers, particularly during busy times of the year. However, new stationary plants are very expensive to build. Mobile plants are less expensive and may help fill the void. The initial investment in a mobile facility can be shared by several businesses or a cooperative, in order to better attract capital and spread operating costs. However, the owners will need to determine whether the mobile unit can service enough animals to make it worth the investment. Reliable estimates of the actual demand in the probable service area and of the daily volume of animals the plant can efficiently handle are necessary to make this determination. Keep in mind that the travel/labor expenses to get animals to and from processing are often reversed onto the operator of the mobile plant (rather than the owner of the animals) and may result in additional costs to a mobile plant operator as compared to a stationary plant.

Custom processing/slaughter units

Custom mobile processing units have been permitted in the past in New York. However, unless animals are being processed the same day that they are field harvested, or the farm has its own cooler facilities for hanging carcasses, the mobile units may actually result in more back and forth transportation than a stationary plant. The animals are normally field harvested and then transported back to the mobile unit's docking station where they are hung in a refrigerated truck. After hanging, they are moved to the mobile processing unit for cutting and packaging, and then transferred to a freezer truck for return to the consumer. The mobile processing unit has similar facilities to those required for a 20-C mobile red meat processing unit. The unit needs to be inspected by the state (under contract with USDA FSIS) for prior approval. The owner of the animal must take possession of the meat/meat products, which are limited to their personal use and must be marked "not for sale".

Field harvesting can be challenging during our cold Northeastern winters. The Spirit of Humane in Wisconsin used a grant from the Sustainable Agricultural Research and Education (SARE) Program to develop a custom exempt mobile kill floor/slaughter unit for sheep and goats. It consists of an 8 x 24 x 8 ft. trailer towed by a ¾-ton pickup. The trailer was created by bolting a truck van body to a mobile home trailer bed. It includes an electrically heated ceramic tile floor, food grade plastic coated walls and reinforced ceiling, grey water collection tank, 4 x 8 ft. chill area with side exit from the trailer, water proof lighting, stainless steel sink and work tables, and a double rail upright slaughter restrainer for humane Halal kill of sheep and goats within the back part of the trailer. The unit cost $46,000 to build including research, design and redesign time. In 2007, the owners estimated that similar units could be built for $25,000.

The New York State Department of Agriculture & Markets interprets the definition of places and establishments where animals or poultry are processed for food in the NY Agriculture & Markets (NYAM) Law to include mobile processing units. Therefore a farmer may get livestock inspected and passed at a USDA federally inspected slaughter house and properly transport the meat back to the farm for further processing under the farmer's own 20-C retail meat processing license at an on-site mobile unit previously approved for 20-C red meat processing. The restrictions for marketing the resulting meat products are identical to those for USDA inspected meat processed at a stationary 20-facility.

One such 20-C mobile processing unit operates under the name "Cowboy Custom Processing". This unit operates out of Schoharie County, NY. The unit is an 8' x 24'enclosed trailer that can be pulled by a ¾-ton pickup truck. It includes a saw, mixer, grinder, cutting tables, three-bay sink, programmable scale, and wrapping equipment. The owner, Eric Shelley, provided all labor other than installation of the refrigeration system. The whole unit cost "not much more than a new truck" and was partially funded through a low-interest loan from the county Industrial Development Agency (IDA). The unit serviced at least four farms operating under individual 20-C licenses. Several of these farms expanded their markets enough to eventually build their own stationary 20-C establishments. Similar to mobile poultry plants, a complete time-consuming cleanup of the unit is required between uses by different farms. Thus, its efficiency increases as the number of animals processed per farm visit increases.

The conditions that the 20-C farmer and the mobile unit operator must meet are listed in the NYSDAM FSI document, Mobile Retail Meat Processing Unit Protocol.

For more information, contact a NYSDAM Regional Office: ALBANY (518) 457-5459; SYRACUSE (315) 487-0852; ROCHESTER (585) 427-2273; BUFFALO (716) 847-3185; NEW YORK CITY (718) 722-2876.

USDA federally inspected or USDA equivalent plants

The first large scale mobile slaughter/processing units operated in the United States were originally designed for the field harvesting of large non-amenable meat species such as buffalo and elk. Animals were dispatched outside the trailers and then the carcasses brought in for further processing.

USDA federally inspected red meat mobile plants for the slaughter of domestic livestock now operate in several states including New York. These units consist of tractor/trailer combinations. Most units are equipped to only slaughter, dress out, wash, and store the carcasses. The carcasses are then transported to a centralized cut and wrap stationary establishment or to a farmer designated meat locker or other such processing plant. These units require creative thinking and problem solving on the part of regional USDA FSIS officers because the federal regulations are based on stationary meat plants.

Special issues relating to mobile red meat USDA slaughter plants include considerations as to the needs of the inspector. Most inspectors working with mobile plants need advance notice of schedules and slaughter locations than is required by an inspector operating at a stationary meat plant. Directions to each location need to be provided well in advance. Prior approval of each site may be necessary. If inspectors need to travel a long distance to meet the traveling unit, overtime may be required. Inspectors need access to computers and telephones regardless of the location of the facility; this requirement is not waved for mobile units in the field. However, technological advances -in terms of cell phones and EVDO wireless cards – often provide sufficient access. Mobile USDA facilities typically do not include rest room facilities. Instead, FSIS offices in several states have issued waivers allowing the use of portable rest rooms or farmhouse lavatories. The units usually provide a place for the inspector's file cabinet, storage cabinet and horizontal space for computer and printer use and storage of his/her records, brands, and supplies.

Another challenging issue for the field unit is the designation of the official address of the mobile unit. Mobile units have used the official address of either the home address of the unit's manager or the address of the stationary processing plant affiliated with the mobile unit.

The water used for slaughtering and processing must be certified as potable. Several mobile units carry their own water tanks (e.g. 500 gallons) which are filled at specific locations supplying the certified potable water requirements. In situations where the farm's water is not certified, the on-farm water is used only for cleaning the outside of the mobile unit. In some cases, each farm is required to provide a certification of potable water and thus meets the water supply requirement. The units must supply 180º F water. This can be achieved by a heat exchanger and electric sterilizers, or hot water heaters. Some mobile units in addition to carrying potable water also carry holding tanks to contain a wastewater. In other cases, the farmer is responsible for discharging wastewater properly.

Other issues may need to be addressed with mobile units. The trailers should be parked on a gravel or concrete pad. Concrete pads need to be sloped with drain lines or fields for run-off, while gravel pads have the advantage of allowing blood and water to percolate through. Slaughtering and processing wastewater should not be discharged into sewers or storm drains. The live animal inspection and kill usually takes place in outside pens supplied by the farm and adjacent to the trailer-landing pad. Adequate restraint must be provided for dentition examination of the animals if necessary and for humane stunning. Depending on the number of animals slaughtered and the frequency the site is used, the pen flooring can be grass, gravel, or concrete. Rodent control is also an issue and the site must not harbor any rodents. This can be an issue when the pens are located near or within a barn structure. Vegetation around the landing site should be mowed short or eliminated to discourage rodents.

After the animal has been inspected and dispatched, it is then hoisted into the trailer but only after the previous carcass has been moved into the cooler. The access door should be closed immediately behind the animal to avoid flies. Carcasses are inspected on the rail after skinning but prior to washing. In some cases, inedible offal can be inspected on the floor if space is otherwise limited for this activity. Removable head racks and drain trays may be used for head and edible offal inspections respectively. Inedible materials are often properly and legally disposed of on-farm under variances from state officials allowing the mobile unit to operate as an on-farm activity. Some states such as New York allow on-farm composting.

Most of the units currently approved for federally inspected red meat are designed to handle cattle and pigs. Several of these were built through either Tri Van in Ferndale, WA and Waco, TX or Featherlite  in Cresco, Iowa. Featherlite has several dealers in the Northeast US.

The currently approved units may be larger than necessary or economical for use by small ruminants only. A smaller unit similar to the 8 x 24 x 8 ft. trailer developed by The Spirit of Humane http://spiritofhumane.com/ as a lamb/goat custom exempt mobile kill floor may have promise for USDA slaughter of sheep and goats.  It was developed under a grant from the Sustainable Agricultural Research and Education (SARE) Program and purportedly built to meet USDA federal inspection standards. USDA inspectors did a walk thru of the plant and recommended increased ventilation to prevent moisture condensation by adding a ceiling air conditioner and fan, and an active insect control system such as an ultra violet light flytrap. Their final SARE report contains more details about the actual design and cost of the mobile unit.

To date, there are no USDA mobile red meat plants operating in New York. Units have been built for possible use and the USDA FSIS regional office is determining the feasibility of allowing USDA mobile units within the state.

For more information on mobile meat plants, check out the mobile processing page on the Niche Meat Processing Assistance Network's Website http://www.extension.org/pages/Mobile_Slaughter/Processing_Units and the USDA FSIS publications, Guidelines on Mobile Slaughter Unit Compliance and Guidelines for Obtaining a Federal Grant of Inspection (includes sample forms and approval letters). In depth information pertaining to New York is available in the red meat mobile slaughter and processing chapter of the Resource Guide to Direct Marketing Livestock and Poultry.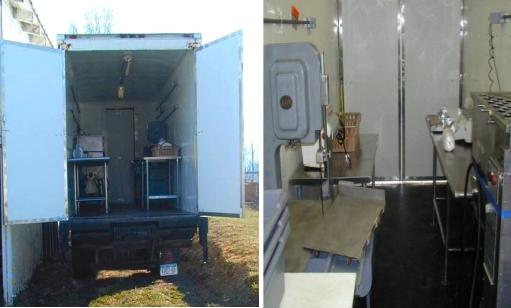 A mobile 20-C processing facility. (Photos: Eric Shelley)